The teachers at Beachcomber work alongside whānau to support children as they learn and grow.
Regular communication with parents through newsletters and notices keeps everyone up to date with what is happening in the centre.
From time to time special events and excursions take place and we welcome parents participation. We have an open door policy and we value whānau contribution and involvement.
Out and about
​Beachcomber organises an annual summer excursion to Cockle Bay beach. This provides a wonderful opportunity for families, children and teachers to get to know each other.
We explore the beach discovering different creatures, feathers and shells whilst learning to respect and care for the environment. Some children make sand castles and have fun in the water.
We have familiarised ourselves with a local Māori legend which relates to the big pohutukawa tree at the beach.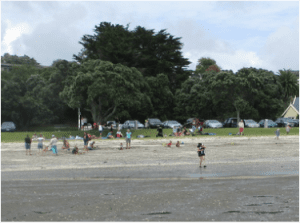 We take our older children to visit our local marae, 'Te Whare Wananga o Owairoa', in the Garden of Memories, Uxbridge Road in Howick.
The trip strengthens our connections to the local community.  It is a great opportunity for children, parents and teachers to experience Māori tikanga, culture and traditions, which are part of our New Zealand bicultural heritage.
 
Giving Back
As a community-spirited centre Beachcomber Kindergarten proudly supports a number of fundraisers throughout the year such as Wig Wednesday for the Child Cancer Foundation, Gumboot Friday and events supporting the Heart Foundation.
'Give a Kid a Blanket' is a community act of kindness. Since 2018 Beachcomber Kindergarten has chosen to support this community group. This group gathers donations of warmth from across the wider Auckland area and beyond, and gifts these to children and families in need. We invite our families to make a donation to support these charities.