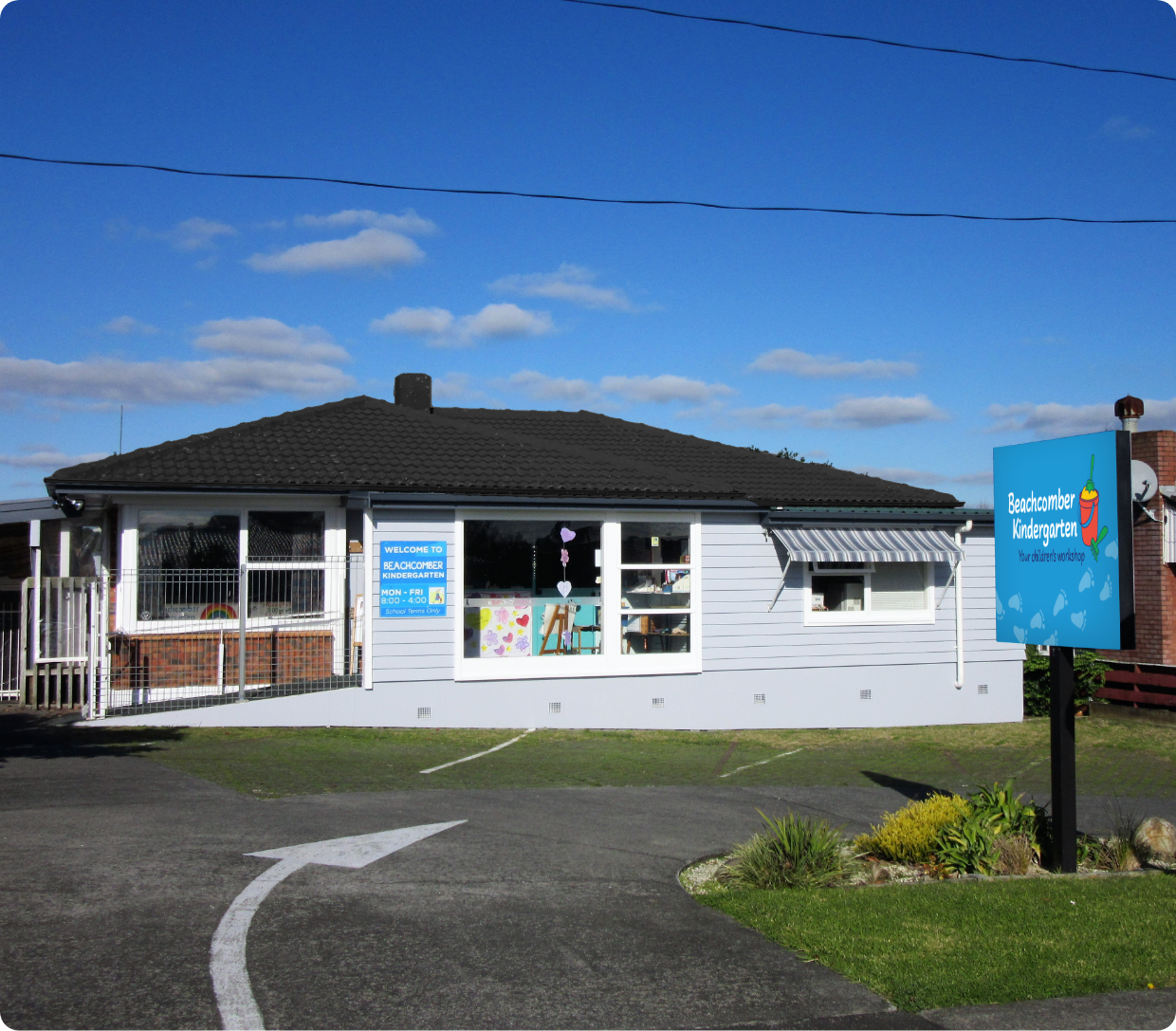 Warm, Welcoming, Quality Childcare.
We focus on helping your children discover the joys of learning in our safe and comfortable childcare centre. Beachcomber Kindergarten enjoys a long-standing reputation for delivering a home away from home that your children will look forward to visiting every day.
*Our kindergarten is a nut-free centre*
Located between Howick and Highland Park, our early childhood centre is carefully designed to foster your child's journey into nature, creativity, exploration, personal expression, curiosity and confidence.
Whether it's in our busy arts and crafts workshop, colourful outdoor play area or our cosy and inviting learning, reading and playing rooms – your child will be supported on their learning journey from their 2nd birthday to starting school.
Low Ratio
Every child can rely on individual focus and support with our low ratio of 1:7. Meet Our Teachers
Enrolment
We are licensed for 30 children from 2 to 5 years of age so be sure to secure your child's place early here
Everyone Welcome
Each child's uniqueness and culture is valued in our safe, caring and inclusive environment. Learn about our Whanau & Community
ERO Success
We consistently receive high ranking reports from NZ's education review authority – ERO Report
Flexible Routine
Open during school terms, from 8am until 4pm weekdays, enrolment hours and days can be flexible, so Talk To Us about what works best for your family
ECE Subsidy
Beachcomber Kindergarten offers up to 20 hours per week ECE Subsidy for 3 and 4 year old children
Growing Books
Every child that has attended Beachcomber Kindergarten has their experiences, learning and enjoyment recorded in their Growing Book. We're frequently told that these become prized possessions and one of the very first projects that your child will witness growing and evolving as they do.
Learn More
Testimonials
After turning five our daughters' teacher commented on her 'readiness' for school. Not only was this in relation to her social and physical skills, but also her academic abilities. We were always pleased we chose Beachcomber as the staff have always been so helpful, supportive, nurturing and understanding. Now we are even happier because they did such a great job with her educational learning as well.
- Sarah
Just thought I would flick you a quick note to say how amazing you and your teachers are. I'm so thankful that you and your team are awesome, kind and caring people. Your kindy is welcoming and all round a special place. You are so accepting and nothing seems to be too hard. The time and effort that you have all invested in both my children means the world to our family. I can't believe the change in Boston this year has blown us away, he's excited to come to kindy every day and he is so happy when he is there. As a parent, I couldn't ask for more. You are all so special to not only Boston but to our whole family.
- Annalise
Every visit from prospective parents and children is exciting and we look forward to meeting you. Feel free to arrange a visit, see the centre and enjoy a chat with our amazing team
Contact