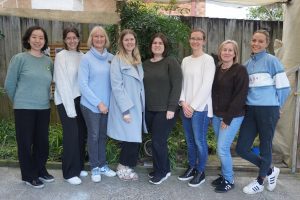 Elaine, Vikki, Theresa, Mandy, Rylie, Diana, Sue, Becs
Theresa
Head Teacher/Centre Manager, Qualified and Registered
When I joined Beachcomber in 1998 it was initially a part time position while my children were young. Over the years my role has changed and at the beginning of 2018 I took on the position of Centre Manager.
I feel a sense of pride in sharing our 'home away from home' with families and love being a part of the exciting learning that happens every day with children. There are so many rewarding moments and never a dull one.
It is inspiring to work alongside a dedicated and experienced team of awesome teachers, who all share the same values and philosophy for children's learning.
Elaine
Teacher, Qualified and Registered
I was born in China and came to study in New Zealand in 2000. After living in New Zealand for 10 years, I went back to China and spent 5 years there teaching English. I moved back to New Zealand in 2014 and retrained as an early childhood teacher through the University of Auckland. I have since worked in a number of ECE centres across Auckland, and gained experiences of working with children of different ages before joining Beachcomber in 2020.
I value each child's unique quality and culture. I believe children learn and grow best when they are in a loving nurturing environment where they see themselves being accepted for who they are. I look forward to getting to know your child and your family.
Diana
Teacher, Qualified and Registered
My time at Beachcomber began in 2008 when I was working part-time as a student teacher.  After completing my Bachelor of Education at The University of Auckland I gained teaching experience at a range of day care centers in Auckland.   
After having my first child I returned to Beachcomber and have been employed as a teacher ever since, taking time out over the years to have my own children.  I am now a Mum to three boys and am so pleased to be at Beachcomber and working with a wonderful team of teachers who are so dedicated to providing a fantastic learning environment for children.
I have a particular interest in children's social and emotional development and enjoy building positive reciprocal relationships with children and their whanau.  
Mandy
Teacher, Qualified and Registered
I am an experienced teacher having worked in various roles of care and support my whole life. I started out as a nanny, teacher aide and then as a personal support person for people with disabilities while I completed my Bachelor in Educational Psychology and then later my Postgraduate Diploma in Primary Education. I have taught a wide range of age groups in the primary setting, from new entrants to Year 6's. After having my daughter in 2021 my interests and passions shifted to the younger years and I began working in ECE.
I have absolutely loved working at Beachcomber Kindergarten since I started in early 2023. The quality of care and teacher experience, as well as the well resourced environment meant I felt at ease both as a teacher and as a parent with my daughter joining the Beachcomber whanau as well. I believe that children learn best when presented with a calm environment with systems in place that allow freedom to explore and be creative.
Sue
Teacher, Qualified
I strongly believe that children learn best through play sharing fun experiences in a safe, stimulating and nurturing environment and one where every child is valued and respected. 
Playing my part in your child's learning journey is what I look forward to so that they are prepared for the world ahead.
I wouldn't want to work anywhere else as I really enjoy being part of a team that makes Beachcomber the perfect place for your little one. 
I look forward to welcoming your child to our Beachcomber family.
Rylie
Teacher, Qualified and Registered
I have been teaching in early childhood since my teens and now have two young children. 
I carry my gentle parenting practices with me as a teacher, supporting emotional regulation and providing a safe and nurturing environment. 
Respectful care and genuine connections are the heart of my philosophy. 
I am passionate about learning through play, especially using heuristic resources and loose parts, and seek to inspire curiosity and wonder through meaningful learning experiences. 
I look forward to being part of your child's learning journey.
Becs
Teacher, Qualified and Registered
My passion for working with children started soon after finishing high school. 
After completing my Bachelor of Education and teacher registration, I have been teaching for the last ten years, predominantly as a pre-school aged kaiako/teacher. 
I live locally with my husband and two children and have been working part time since having my own children. 
I love being an advocate for children – working alongside our tamariki/children, building meaningful relationships with each one and their whanau/family and supporting them to learn, explore and grow.
Vikki
Administration Support
Christine
Centre Owner
After many years teaching in Early Childhood centres both in New Zealand and overseas, I knew that when I established my own centre I wanted it to be a warm and welcoming environment which offered flexibility to children and their parents.
Relocating Beachcomber Kindergarten to Howick in 1997 was very much a family affair with my own family helping and supporting me in the development of the centre.
I am very proud of how the centre has grown and developed over the last twenty-five years.
When it was time for me to step down from managing the centre in 2018, I was delighted when Theresa endorsed and adopted my hopes and dreams for Beachcomber.  With the help of Karen, our administrator and an amazing team of teachers the kindergarten has gone from strength to strength.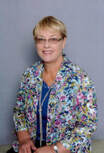 It still maintains the homely, family feeling I created almost thirty years ago.  When I come in and visit regularly, it feels like walking into my second home.  I continue to see the children having fun and engaged in their learning.